Invisalign® Clear Aligners – Richardson, TX
The Clear Path
to a Straighter Smile
For many patients, Invisalign sounds like it's too good to be true. "You mean you can straighten your teeth without braces?" Yes, and in fact, no one will be able to tell you're undergoing orthodontic treatment at all! Invisalign in Richardson is the discreet alternative that adults and teens have been waiting for, and our team can help patients achieve stunning results while maintaining their confidence and appearance throughout the process. If you're ready to start you or your child on the path towards a straighter, better smile, give us a call today to schedule a free consultation!
Why Choose Richardson Orthodontics for Invisalign Clear Aligners?
Only Female Board-Certified Orthodontist in Richardson
16 Years of Experience Creating Gorgeous Smiles
Dental Insurance Accepted and 0% In-House Financing
How Invisalign Works
The interesting thing about Invisalign is that it straightens the teeth in a way very similar to traditional braces. A small amount of force is applied to the teeth, and this gradually moves them into more desirable positions. But, instead of using brackets and wires to do this, Invisalign utilizes a series of thin, see-through plastic aligner trays. They simply slide over the teeth, and the patient wears a set for about two weeks before moving on to the next. Once a patient has gone through their entire series, the treatment is finished, and they should see a perfectly straight smile in the mirror.
Invisalign for Teens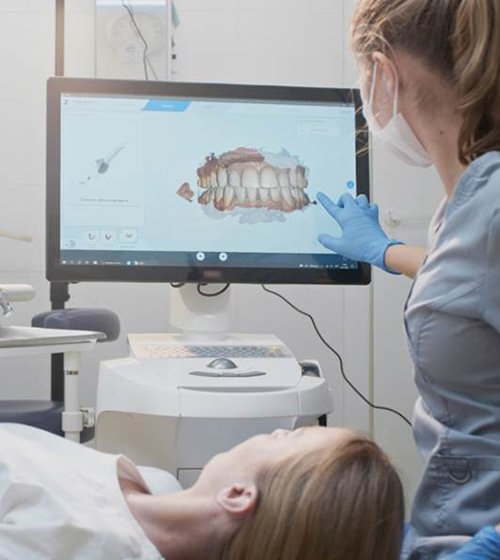 Is your teenager self-conscious about their appearance? Do they dread the thought of potentially wearing metal brackets and wires? The good news is that they can experience a more positive and discreet method of treatment thanks to Invisalign for Teens.
Equipped with customizable trays that are designed to move their smile in the right direction, they can feel more confident undergoing an orthodontic treatment that doesn't compromise their daily appearance. It still uses the same clear aligner trays, but each one has a small indicator dot at the back that gradually fades. This helps teenagers and their parents keep track of the trays and ensure they're being worn as needed. It also comes with free replacement trays in case one ever gets broken or "lost", meaning the treatment can work for even the most clumsy or forgetful teen!
Learn More About Invisalign for Teens
Invisalign for Adults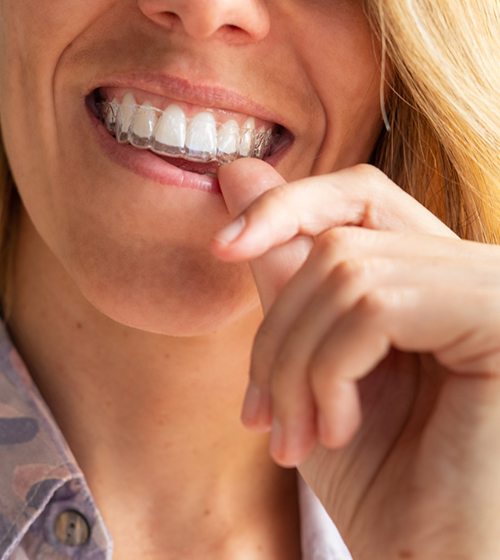 According to the American Association of Orthodontists, about 1 in 4 orthodontic patients are adults. If you are among the millions of mature individuals who want to straighten their teeth, you may hesitate to get traditional braces because of the way they look. Invisalign could be perfect for you! It can help you maintain a professional image as you journey through your treatment process. Plus, the removable nature of the aligners will allow you to continue eating all of your favorite foods.
Learn More About Invisalign for Adults
Invisalign vs. Braces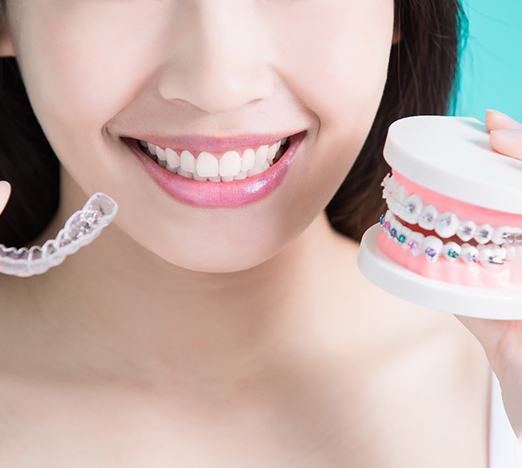 Exploring your teeth-straightening options? Invisalign and traditional braces are two excellent orthodontic treatments that can yield stunning results. As such, it can be difficult to choose between the two. Both are FDA-approved methods that have been incredibly popular for many years, and continue to be to this day. When deciding between clear aligners and braces, there are many factors you should take into account. Below, you can learn some helpful information that'll help you come to a well-informed decision.
How Are Invisalign and Braces Similar?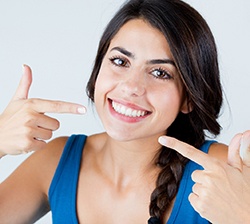 Believe it or not, Invisalign and traditional braces are similar in many ways. They both must be worn all day and require a commitment to following treatment instructions. You must practice good oral hygiene to ensure successful treatment. In addition, both methods are highly effective for addressing issues like crooked teeth, overbites, underbites, and jaw position.
How Are Invisalign and Braces Different?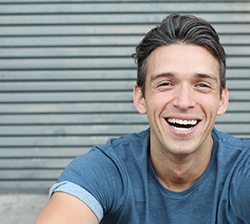 One significant difference between braces and Invisalign is the method used to straighten your teeth. Traditional braces use metal wires and brackets to change the positioning of your pearly whites throughout your treatment. In some cases, elastics are used to bring the teeth into proper alignment. Meanwhile, Invisalign uses a series of clear aligners to help you achieve your desired results. Your plastic trays must be changed every one to two weeks until you complete your treatment.
Benefits of Braces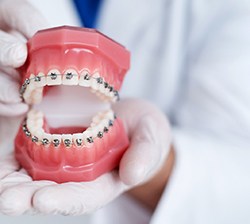 When deciding which option is right for you, you must consider what makes braces a viable solution, such as:
Irremovable – Metal braces will stay in place until you're done with your treatment, which is why they're a great option for patients worried about losing their Invisalign clear aligners.
Treatment time – Since metal braces aren't removable, the treatment time is more easily predictable. Depending on your orthodontic needs, you may finish quicker than you would with Invisalign.
Follow-up visits – You'll visit your orthodontist every two months to have your braces adjusted. These appointments generally last about 20 to 30 minutes.
Cost – While the price of braces depends on the complexity of your case, it's still similar to the cost of Invisalign.
Challenges of Braces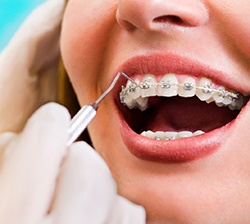 It's important to consider the challenges of wearing traditional braces, like:
Not as aesthetically pleasing or comfortable as Invisalign
Flossing and brushing requires more effort
Certain food and drink must be avoided (i.e., hard and sticky foods)
Mouthguards are recommended to protect your mouth during athletics
Benefits of Invisalign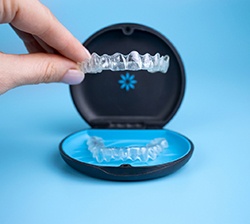 Now that you know about the benefits of braces, you may want to know about the advantages of Invisalign:
Removable – Since you can remove the trays whenever you want, you can eat and drink without any food restrictions.
Discreet appearance – Many patients prefer Invisalign because the plastic trays are clear, meaning others will hardly notice when you're wearing them.
Comfort – Thanks to the smooth plastic design, Invisalign clear aligners are far more comfortable. You don't have to worry about wires or brackets creating sores in your mouth.
Treatment time – Invisalign aligners need to be worn at least 22 hours a day. If you're compliant, your treatment time will be about the same as braces.
Cost – The price of Invisalign depends on the complexity of the case. However, it's similar to the cost of braces in most cases.
Follow-up visits – One advantage of Invisalign is that you're able to visit your orthodontist less often, which is every two to three months. Your appointments are usually 20 minutes or less.
Challenges of Invisalign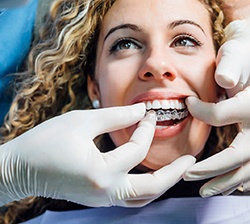 Some challenges to undergoing Invisalign treatment include:
Treatment compliance is vital to successful treatment
You need to be responsible with trays and not misplace them
Plastic trays can stain if they're not removed before eating and drinking
Indications for Invisalign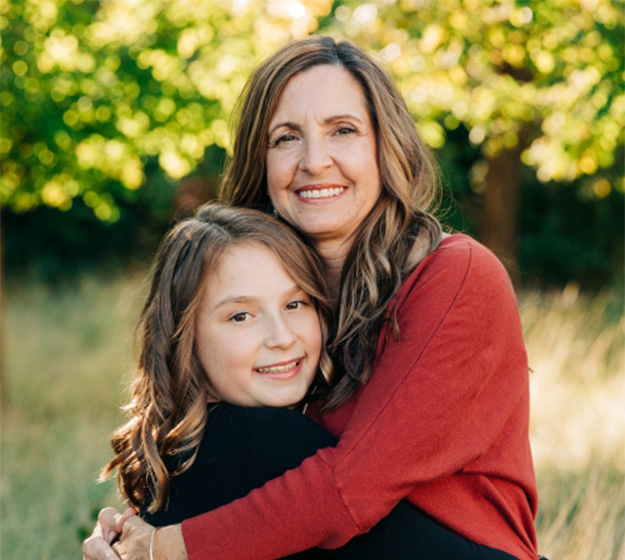 Invisalign can correct a wide range of orthodontic issues, including:
Crowded Teeth
If you feel like you have too many teeth in your mouth, it could be because you have crowding issues. Fortunately, Invisalign clear aligners can gently move your teeth into proper alignment. It's incredibly important that you fix crowded teeth because they can increase your risk of oral health problems like decay and gum disease.
Gaps Between Teeth
Having gaps in your smile isn't just unattractive – it can increase your chances of cavities, decay, and infection. That's mainly because food particles can more easily get trapped in the spaces between your teeth, causing decay and bad breath. Luckily, Invisalign can push teeth back into a healthier, more aligned position.
Bite Alignment
A misaligned bite can place unnecessary pressure on your temporomandibular joint, causing problems like TMJ disorder and teeth grinding and clenching. Invisalign can easily correct problems like underbites, overbites, and even crossbites.
The Benefits of Invisalign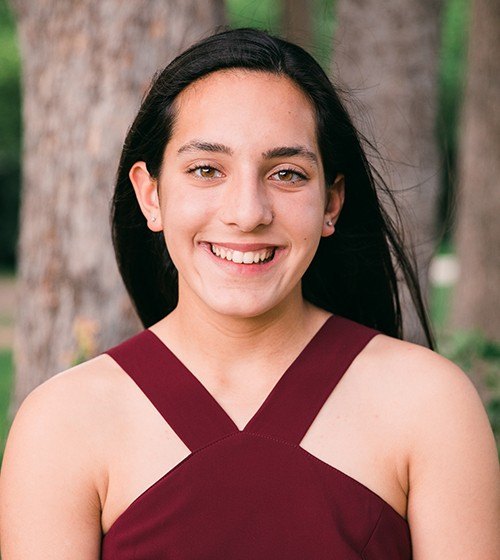 By choosing to get Invisalign in Richardson, you can expect to reap the following incredible benefits:
Subtle Appearance: When someone has braces, it's easy to tell, but with Invisalign, only you and your orthodontist will know about it. The trays practically disappear when worn, meaning you don't have to worry about people noticing your treatment whenever you speak, eat, or smile.
Comfortable Fit: Each Invisalign treatment is personally designed by Jones and made of smooth plastic, leading to a secure and custom fit that doesn't irritate the lips or gums.
Convenience: Whenever it's time to eat, a patient can simply take Invisalign off and enjoy. This flexibility also allows them to clean their teeth like normal, making brushing and flossing much easier compared to regular braces.
How Much Does Invisalign Cost?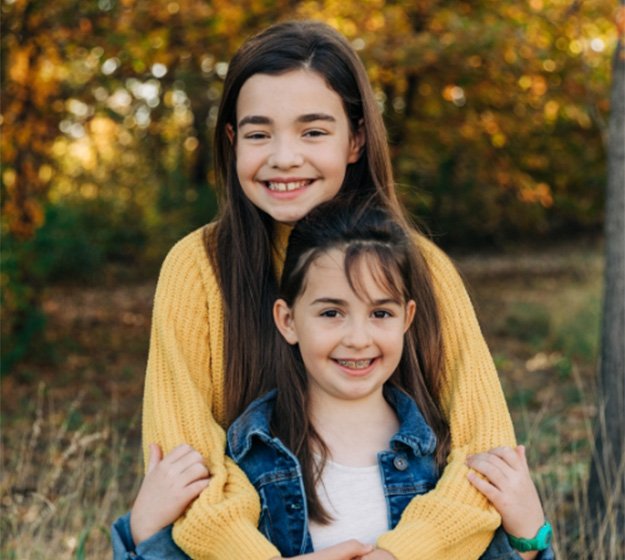 If you're curious about the cost of Invisalign in Richardson, you'll need to schedule a free consultation with Dr. Jones and Dr. Hanson. Because no two patients or cases are alike, your treatment will likely vary from another individual's experience. From the severity of your dental problem to the number of aligners you will need to achieve optimal results, only a thorough examination from Dr. Jones and Dr. Hanson will provide you with the information you need to better determine how you will budget for your new and improved smile. To help you better understand the various factors that are considered when creating your cost estimate, review the following information and do not hesitate to contact our office with any additional questions.
Factors that Affect the Cost of Invisalign
You may not realize it but there are many different factors your Invisalign dentist in Richardson will consider before establishing a formal estimate for your treatment. Some of these include:
The severity of your crowded or gapped teeth, misaligned bite, or crooked smile. This can determine much of how the rest of your treatment will go. For example, it is much less expensive to close the gap between two teeth that realign an underbite.
The duration of your Invisalign treatment. Each person's timeline is different and although Invisalign tends to produce faster results, it doesn't happen overnight. If your orthodontist believes you will need to spend more time wearing Invisalign, the cost of additional aligners will be included in the final price.
The location of your aligners. Do you need them to fix your upper arch or just the lower one? Do you need aligners to straighten your entire smile?
Invisalign vs. Smile Direct Club™: Which Costs More?
If you're considering one of the advertised do-it-yourself aligner systems like Smile Direct Club, you may want to wait until you learn more about why it's better to choose Invisalign. While the price is tempting ($2,000 versus $3,000-$8,000 with Invisalign), there are many potential pitfalls you can experience with a DIY orthodontic solution.
Not only will you be required to capture your own impressions, but there is a good chance they'll be less accurate, resulting in poorly fitted aligners that can actually do more harm to your teeth than good. Also, with Smile Direct Club, you do not have an orthodontist overseeing your treatment. Should a problem occur at any given point, you'll be left to either take care of the problem yourself or seek the help of a trusted professional.
Opting for Invisalign in Richardson from the start is your best choice and not just because we're the ones delivering this information. When seeing a licensed orthodontist who is trained to provide Invisalign services, you will not only undergo a safe and effective method of treatment, but you'll achieve results that are long-lasting and life-changing. Not to mention, your orthodontist will remain with you throughout the duration of your treatment, ensuring no problems develop along the way.
Does Dental Insurance Cover Invisalign?
It is possible to receive available coverage with some dental insurance companies; however, it is dependent upon the individual company and plan as to whether they will agree to incorporate Invisalign into their orthodontic policy. While regular metal braces are typically covered up to 50%, it will be necessary for you to check with your insurer to learn if there are any exceptions or exclusions. You should also inquire as to whether you can use your flexible savings account (FSA), as many can be used to help pay for some of your Invisalign expenses.
Options for Making Invisalign Affordable
If you are uninsured or need assistance to pay for any remaining out-of-pocket expenses associated with your Invisalign treatment, you'll be pleased to learn that Dr. Jones, Dr. Hanson and her team at Richardson Orthodontics can help you apply for in-house financing. By allowing you to break up the cost of your treatment into manageable monthly payments, you can better budget for your new and improved smile.
Getting Started with Invisalign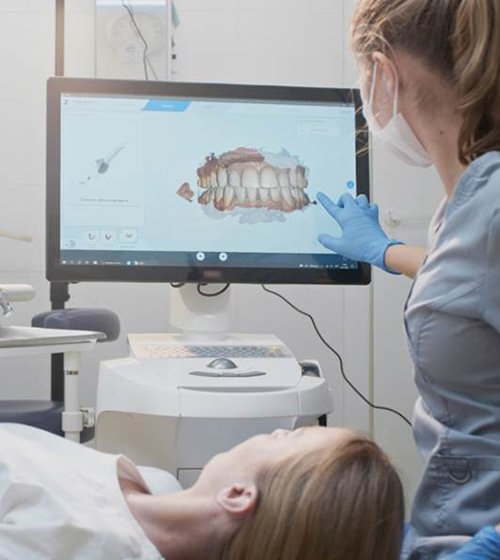 The Invisalign treatment process is pretty straightforward. You'll begin with a consultation, wherein we will scan your teeth, analyze your dental misalignment, and start planning your treatment. You should take this opportunity to ask any questions that you may have about the road ahead. Next, we'll order your custom aligners. When they arrive, you will wear each one for 1 – 2 weeks. You'll visit us periodically so we can monitor your progress and make any necessary adjustments to your treatment plan.
Invisalign FAQs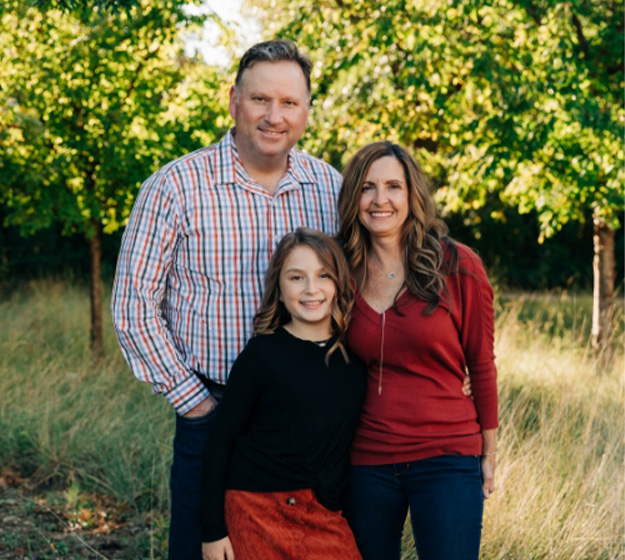 If you have crooked teeth or bite issues, Invisalign is the clear path to a straighter smile. This revolutionary orthodontic treatment is unlike traditional metal braces in many ways, so it's natural to have some questions about it! For your convenience, we've gathered some Invisalign FAQs below so you can learn more. If you don't see the answers you're looking for, don't hesitate to give us a call and we'll be happy to provide the information you're looking for.
Does Wearing Invisalign Aligners Hurt?
While the metal wires and brackets of traditional braces are an effective orthodontic treatment, they're notorious for irritating the lips, cheeks, and tongue. Invisalign aligners, on the other hand, are crafted out of a single piece of smooth plastic that should glide past your soft tissues. You can expect to enjoy a much more comfortable straightening experience with Invisalign!
What Foods Do I Need to Avoid During My Invisalign Treatment?
Unlike traditional braces that require patients to adhere to certain dietary restrictions, you don't have to give up any of your favorite foods during an Invisalign treatment! Simply remove your aligners and store them in their case before enjoying your meal. When you're done, take a moment to brush off your teeth before popping your aligners back into place. This will ensure your teeth stay cavity-free and your aligners remain practically invisible throughout your treatment.
How Long Do Invisalign Aligners Need to Be Worn Every Day?
One of Invisalign's greatest freedoms is the removable nature of the aligners. However, this benefit is also its greatest responsibility. It's up to you to keep your treatment on track by wearing your aligners for 20-22 hours every day. If you don't wear them often enough, you could potentially extend the cost and length of your treatment! However, this should leave you plenty of time for taking your aligners out for brushing, flossing, eating, drinking, and playing sports.
Are Invisalign Results Permanent?
Invisalign has the potential to help you achieve a permanently straightened smile. However, that's only as long as you take the right steps to maintain your results! Just like with any other orthodontic treatment, you'll need to wear a custom retainer once you've finished your Invisalign treatment. You must follow all of Dr. Jones' and Dr. Hansons' instructions for wearing your retainer if you want your results to last. Your retainer holds your teeth in place as your jaw continues to adapt to their new position, which will help you enjoy a beautiful smile for life.
How Can I Tell If Invisalign Is Right for Me or My Child?
While Invisalign is a good choice for almost anyone who wants a straighter smile, the only way to know for sure if it's the right choice for you or your child is to come see us for a consultation. During this initial visit, Dr. Jones and Dr. Hanson will take a close look at your smile and review your medical history to determine if Invisalign can help you achieve your desired results. As a Diamond Invisalign Provider, Dr. Jones and Dr. Hanson has helped over 800 patients get the beautiful smiles they deserve with Invisalign, and she would be happy to show you before and after pictures of actual patients who've undergone Invisalign. In addition, she can show you a digital preview of your results with the help of state-of-the-art iTero technology. To help you feel even more confident in your decision, Dr. Jones and Dr. Hanson are proud to offer free consultations!
To schedule a free Invisalign consultation for you or your child, don't hesitate to give us a call!