Dentofacial Orthopedics – Richardson, TX
Non-Surgical
Bite Correction
Orthodontics is not only able to change the position of the teeth, but the underlying bone that supports the teeth as well. This is called dentofacial orthopedics, and it allows Dr. Jones to correct very misaligned bites and save many patients from invasive surgery. In addition to improving someone's oral function, this kind of treatment can also make the face appear fuller and more symmetrical, dramatically improving someone's appearance and confidence at the same time. Could you or your child benefit from dentofacial orthopedics in Richardson, TX? To find out, give us a call today to schedule a FREE in-person consultation.
Why Choose Richardson Orthodontics for Dentofacial Orthopedics?
Non-Invasive Alternative to Corrective Jaw Surgery
Board-Certified Orthodontist with 16 Years of Experience
Family-Owned & Operated Practice
What is Dentofacial Orthopedics?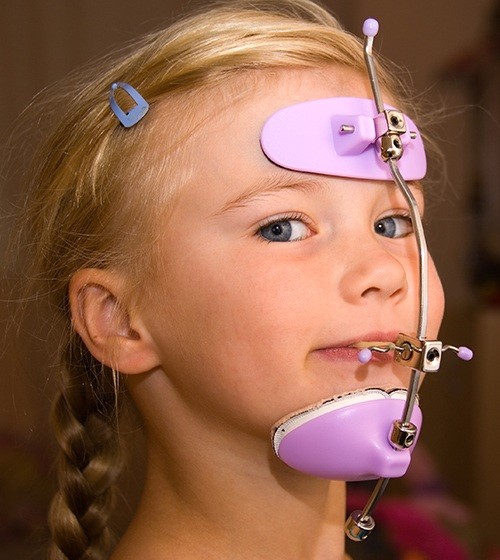 While the name is a mouthful, the concept behind dentofacial orthopedics is relatively simple: if the bones supporting the teeth aren't in the right position, then the teeth and bite will never be straight. So, dentofacial orthopedics works to correct this by stimulating growth in one of the jawbones so that the bite comes together correctly. This approach can also solve many aesthetic concerns that are beyond the scope of traditional orthodontics (like a pronounced overbite or underbite), saving a patient from having to get a more invasive procedure.
Dentofacial Orthopedics FAQs
Dentofacial orthopedics, sometimes called dentofacial ortho, isn't a field that gets talked about a lot. Therefore, we completely understand if you have questions about what it is and what it can involve. To help you out, we have put together a list of some frequently asked questions about this type of treatment, along with succinct answers. Feel free to give us a call if you do not find the specific information that you were hoping for.
What Kind of Appliances Are Used in Dentofacial Orthopedics?
One of the main goals of dentofacial orthopedics is to correct imbalances in jaw growth. Therefore, the appliances used in it typically promote expansion of either the upper or lower jaw. A few devices that are commonly used in this field include:
Palatal expanders, which promote growth of the upper jaw.
Lower jaw expanders, which move the teeth apart to make room in the lower jaw.
Activators, which move a jaw forward and guide proper eruption of adult teeth.
Blocks, which use a patient's natural bite force to move teeth.
Headgear, which involves the use of devices outside of the mouth that help to address bite and jaw alignment issues.
How Long Does Dentofacial Orthopedic Treatment Take?
During your free consultation, your orthodontist can give you an estimate for how long treatment will take. The timeline typically depends on the severity of the issues needing to be addressed, a patient's age, and other factors. It may take several months to a few years to successfully complete treatment. That may seem like a long time, but the end results — improved dental health and more proportionate facial aesthetics — are well worth it.
How Much Does Dentofacial Orthopedics Cost?
We can provide you with a cost estimate when you come in for your consultation. Most patients spend at least a few thousand dollars on start-to-finish care. Fortunately, there are provisions available that can make it easier for you to manage the cost of this service. For example, we are an insurance-friendly practice. If your policy covers dentofacial orthopedics, we will be more than happy to guide you through the process of using your benefits. Most patients are also eligible for low-interest financing.
How Does Dentofacial Orthopedic Treatment Differ Between Children and Adults?
Dentofacial ortho for children takes advantage of the fact that young ones' jaws are still developing. Appliances can guide the growth of the bones so they eventually settle into a functional, proper form. It is different with adults because sometime in the teens or early 20s, the jawbones finish growing. Therefore, older patients may require surgery along with orthodontic treatment to experience optimum results.