Orthodontic Emergencies – Richardson, TX
Providing Help When You Need It Most
At Richardson Orthodontics, we understand that orthodontic emergencies can happen at any moment. Whether faced with loose braces or a bracket, or you have severe soft tissue irritation, Dr. Jones and her team can work to remedy the problem and get you back to your daily routine. You should seek emergency care as soon as possible to prevent worsening conditions for your teeth, gums, and overall smile. When calling our office to alert us to your problem, we will work diligently to schedule your appointment at the earliest convenience. To learn more about what you can do to avoid these types of emergencies or how to treat them at home, spend some time reviewing this page and don't hesitate to contact us with additional questions.
Why Choose Richardson Orthodontics for Orthodontic Emergencies?
Jones is a board-certified orthodontist
Safe, fast, and effective treatments to get you back to your daily activities
Patient safety and comfort are our #1 priorities
How Can I Avoid Orthodontic Emergencies?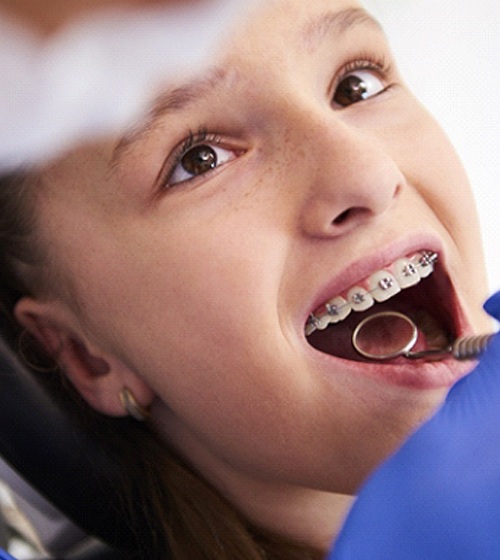 Knowing you have a professional who can help when faced with an ortho emergency is important; however, it's always best to try and avoid common orthodontic injuries when possible. A few ways you can do this include:
Maintaining good oral hygiene by brushing your teeth and flossing every day. This will prevent cavities from forming and gum disease from developing.
Avoid eating or chewing hard, crunchy, or sticky foods that can not only cause cavities but also damage brackets and wires.
If you engage in sports or outdoor physical activities, wear a protective mouthguard.
Keep your regularly scheduled dental appointments to ensure your braces are in good shape and no problems or issues need to be addressed.
What Are the Best Ways to Care for Braces/Retainers at Home?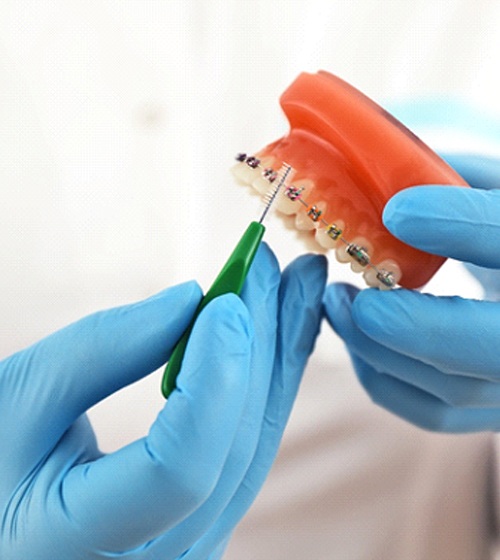 There are ways you can take care of your braces at home when faced with certain scenarios. While not all instances require a visit to the emergency orthodontist, it doesn't hurt to call and inform our staff of a problem you cannot fix or are too concerned to address while at home.
A few things you'll want to remember are:
Flossing between the wire and tooth is crucial because food can become easily stuck, leading to possible cavities and tooth decay.
If you don't feel as if your regular toothbrush is doing the job, ask about other products that are designed for patients with braces. Specialized toothbrushes are available and will benefit your smile while wearing metals brackets and wires.
Once you've reached the retainer phase of treatment, clean any food debris with your toothbrush and water. You may also want to soak it in a type of denture cleaner but be sure to rinse it well before reinserting it in your mouth.
Stuck Food or Debris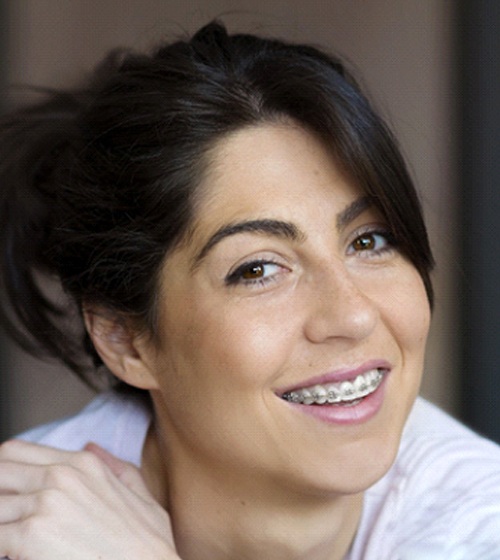 Dental floss or a proxy brush is a great way to remove stuck food or debris between your teeth. It is not uncommon for this to happen while wearing braces, and you do not need to see your orthodontist every time this happens. By using the proper instruments, you can safely and effectively remove the object.
Ligature Damaged or Fallen Off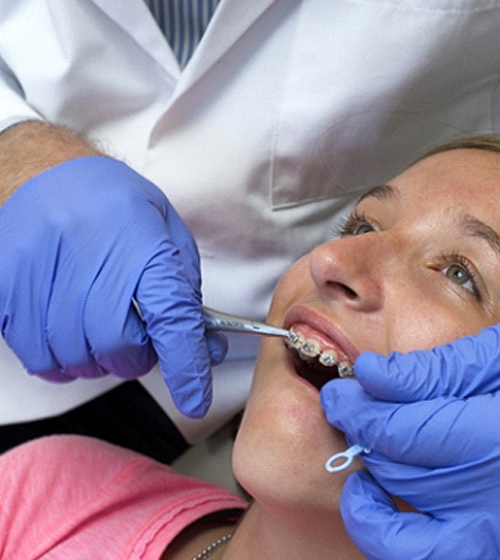 If you are wearing ligatures (also known as rubber bands), you can easily put it back into place if it falls off. These small elastics are designed to keep the wire attached to your braces, so by using a pair of tweezers, you can quickly put it back in. However, if they continually fall out, we will need to look at the problem and determine a solution to prevent it from happening again.
Dental Pain or Discomfort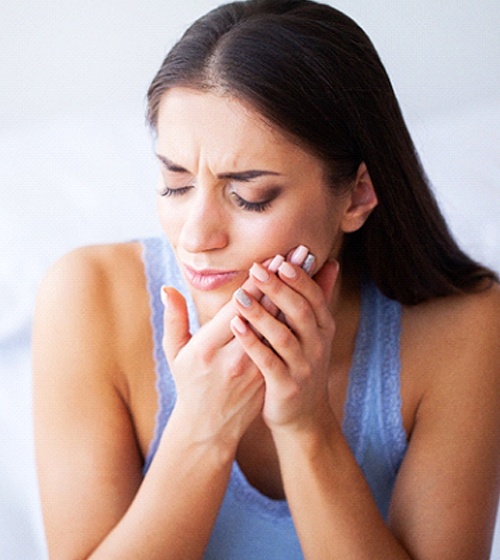 It's not uncommon for patients to experience pain or discomfort while wearing braces. This will often dissipate after a few days; however, an over-the-counter pain reliever, dental wax, and a warm washcloth are all great ways to minimize soreness and discomfort.
Oral Soft Tissue Sores, Irritation, or Inflammation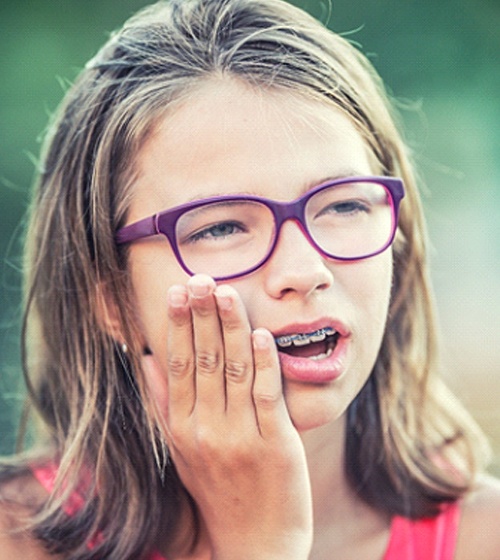 When wearing braces, you may notice that your brackets tend to rub against your lips, tongue, or cheeks. This can cause your soft tissues to become irritated, develop sores, or even experience inflammation. Although normal, you will want to rinse with warm saltwater and use dental wax to cover your brackets. This will create a barrier between your braces and soft tissues to prevent continued irritation.
Loose/Poking Wires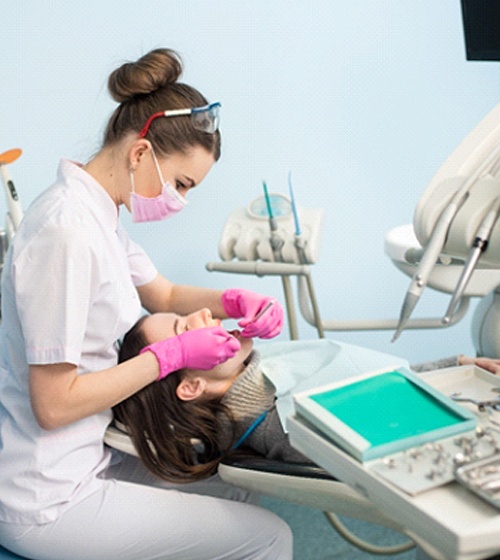 If a wire becomes loose or is poking an area of your mouth during treatment, it is possible to take your toothbrush or a pencil eraser and move it back into the correct position. If you are unsuccessful at bending the wire, or you have difficulty moving a loose wire back into place, don't hesitate to contact us. Placing dental wax over the problem area of your braces can help minimize discomfort and serve as a temporary fix until you can see Dr. Jones.
Loose Bracket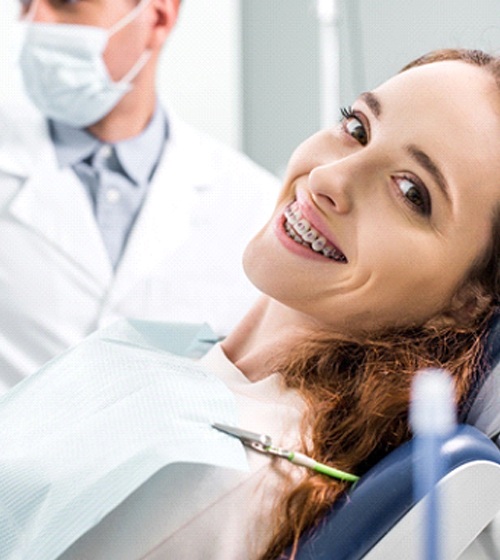 If a bracket becomes loose but is still attached to the wire, use dental wax to cover the area and avoid possible irritation to your soft tissues. If the bracket comes off and is not attached to your wire, make sure to bring it with you to your appointment. Any time you are dealing with a piece or oral appliance that comes off, you will need to call us and get in as soon as possible to prevent a delay in treatment.
Swallowed Piece of Appliance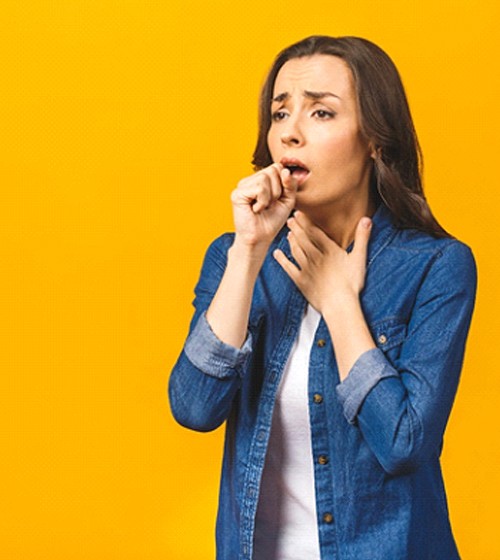 This is probably one of the rarest occurrences that can happen; however, should you accidentally swallow a piece of your braces, you will need to remove it yourself (if you can see it). If you cannot see it and you begin to cough, you will need to get to a local emergency room quickly to have it removed.
Facial Trauma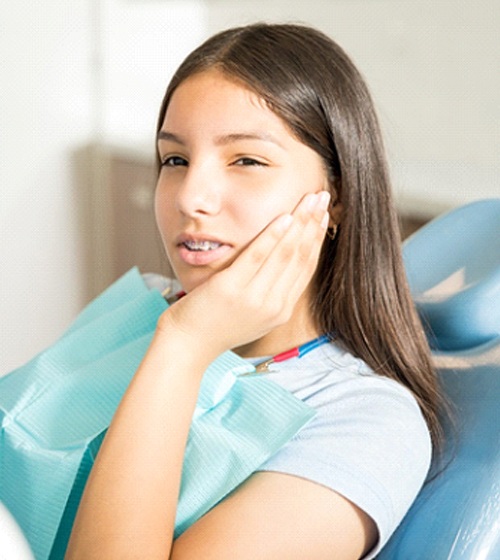 If you are playing sports or simply experience facial trauma, this can create serious problems for your braces and your mouth. This is why it's important to wear a mouthguard, especially when playing sports. If any type of facial trauma happens, call our office immediately. Dr. Jones will take a look at the damage and determine how best to repair your braces. If you are experiencing increased bleeding or a broken/fractured jaw, don't wait to see us. Get to a local ER for immediate medical attention.
Orthodontic Emergency FAQs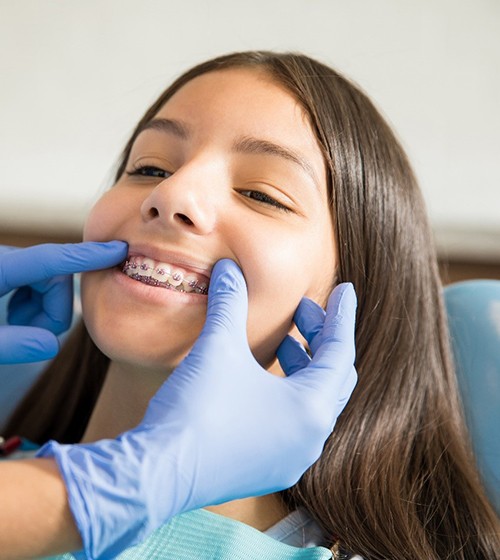 Knowing how to handle an emergency while undergoing orthodontic treatment is important. No matter the cause of your injury, being able to take the proper steps will help to minimize damage and improve your chances of successful treatment. Should you or your child experience a problem while wearing braces of any kind, or if you have questions about how to handle a particular dental injury, don't hesitate to contact our office. To provide you with greater insight, our orthodontist, Dr. Jones, has compiled some of the most common questions asked by patients when it comes to orthodontic emergencies.
What constitutes an orthodontic emergency?
You should remember that soreness and tenderness are normal when receiving braces. It's also a common occurrence each time a wire is tightened during a regular appointment. However, if you or your child begin to experience severe pain or discomfort that does not cease within a few days, or you have a broken or loose wire or bracket, it's time to contact our office. The earlier you seek treatment, the greater the chances of avoiding a delay in treatment.
What should I do while waiting to see an orthodontist near me?
While Dr. Jones will always work to see you as quickly as possible, you may need to wait at home until your designated appointment time. If you are experiencing a broken wire or bracket, it is best to rinse with saltwater to keep your mouth clean. You'll also want to avoid eating anything hard or sticky, as this can cause the problem to worsen.
It is also helpful to keep dental wax on hand should you need to reattach a loose bracket. You can easily attach it to a nearby bracket until you reach our office.
What happens if I lose my retainer?
One of the most important tips you'll receive from Dr. Jones is to keep your retainer in a protective case when it isn't in your mouth. This includes while you are eating, as it is far too easy to accidentally throw it away or leave it behind. Should this happen to you, make sure to contact us quickly. Forgoing wearing your retainer can undo months or even years of hard work. If your teeth are not permanently set in their new position, they can begin to shift back.
When caring for your retainer, make sure to clean them thoroughly to remove any debris or bacteria that could negatively impact your oral health. But avoid using hot water, as this can cause your retainer to lose its shape and no longer fit correctly in your mouth.
What should I do if an emergency occurs while I'm out of town?
Emergencies don't just happen when you're minutes away from your orthodontist, so if you're traveling, make sure to google "orthodontist near me" should a problem arise. If it does, get to their office for immediate treatment but make sure to call and alert us to the situation. Once you return, we will likely want to examine your braces to ensure no further treatment is necessary.
Will insurance cover the cost of an orthodontic emergency?
This is dependent upon your individual insurance company. Because each policy is different, you will need to review your plan to determine if there are any exclusions or stipulations. If you would prefer, a member of our team will be happy to work on your behalf to help you get the answers you need. But no matter if your insurance company agrees to cover your treatment, you should never forgo emergency orthodontic assistance. Not only can you face a severe delay, but you can also encounter additional time and money spent to fix the issue.