Orthodontic Appliances – Richardson, TX
More than
Just Braces!
While it can be easy to think that orthodontic care just consists of braces and Invisalign, the truth is that Dr. Jones is able to utilize a wide variety of appliances to help our patients achieve straighter, healthier, and more beautiful smiles. From retainers to thumb cribs to expanders and more, these appliances enable her to perfectly tailor someone's treatment so their results are gorgeous and their experience is as comfortable as possible. To see which orthodontic appliances in Richardson, TX might be best for you or your child, we invite you to schedule a FREE consultation here at Richardson Orthodontics.
Why Choose Richardson Orthodontics for Orthodontic Appliances?
Board-Certified Orthodontist with 16 Years of Experience
Custom-Made Appliances for Each Patient
Appliances Made In-House with 3D Printer
Our Available Orthodontic Appliances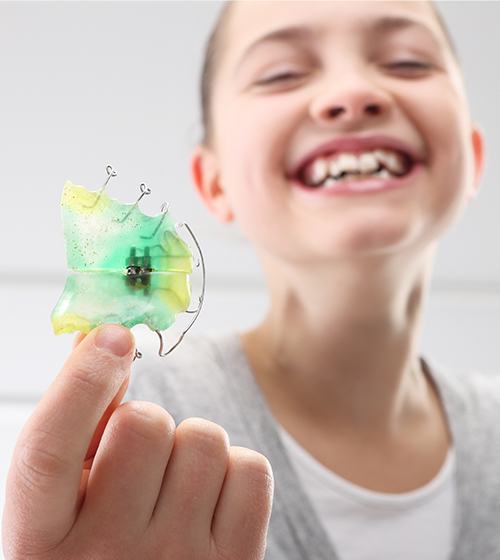 Depending on your or your child's specific needs, Dr. Jones may recommend using one or more of the following appliances:
Fixed or removable retainers: After an orthodontic treatment has finished, retainers ensure that the teeth stay in their new positions. Without them, the teeth would actually start to drift back to where they started, and no one wants that!
Palatal Expanders: Sometimes, the roof of a child's mouth (or hard palate) can be so narrow that it prevents the upper teeth from coming in correctly, leading to crowding. An expander enables Dr. Jones to gradually widen the palate to create more room for the teeth as well as a broader, more attractive smile.
Thumb Crib: Will your child just not stop sucking their thumb? This small appliance can help them break the habit by preventing them from putting their thumb in their mouth.
This is just a small sample of the appliances we use every day! Dr. Jones will be able to explain more when you come to see her in person.