Adult Orthodontics – Richardson, TX
It's Never Too Late
for Your Smile
While orthodontics is usually associated with children, the fact is that around 25% of all orthodontic patients in America are over the age of 18! That means whether someone is in college or multiple decades into their career, they can still choose to straighten their teeth and get the smile they've always wanted. Dr. Jones and Dr. Hanson have helped countless adults achieve results they didn't think possible using subtle treatments that allowed them to maintain their daily appearance. You can learn more about our options for adult orthodontics in Richardson, TX and even schedule a FREE consultation by giving us a call today.
Why Choose Richardson Orthodontics for Adult Orthodontics?
Board-Certified Orthodontist with 16 Years of Experience
Treatment Plans Specifically Designed for Adults
Dental Insurance Maximized & 0% In-House Financing
The Difference Between Adult & Childhood Orthodontics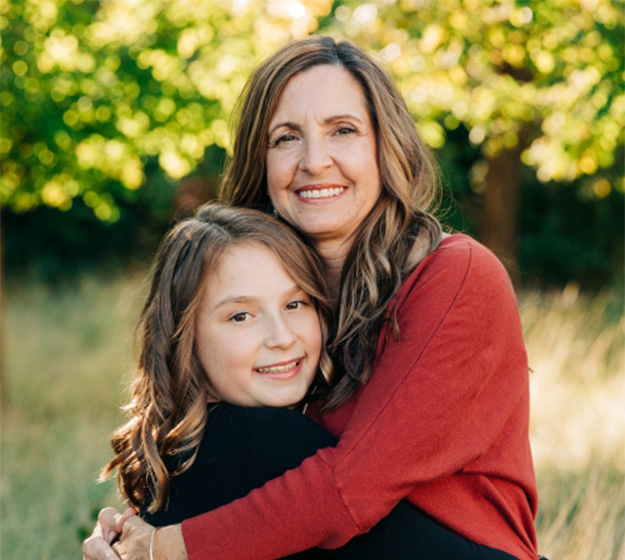 The reason that orthodontics is recommended for children so often is because when we're young, the bones of our face and jaw aren't fully set yet. This means they can be more easily manipulated with orthodontic treatment to straighten the teeth and bite. In adults, however, these bones are completely hardened, but it's still possible to shift the teeth and bite. The biggest difference is that the process usually takes a little longer, and for very advanced orthodontic issues, sometimes corrective surgery is the only available option. Fortunately, Dr. Jones and Dr. Hanson are usually able to provide exactly what an adult patient needs using a gentle, non-invasive approach. And afterward, the results can be trusted to last for a lifetime.
Our Adult Orthodontic Treatment Options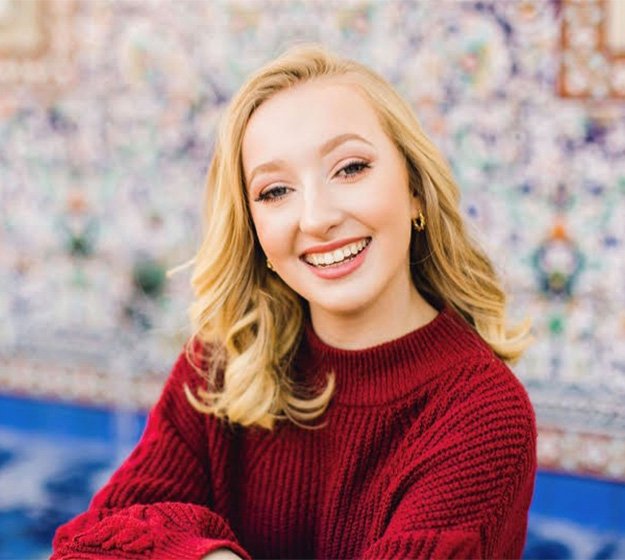 Invisalign: Invisalign allows a patient to discreetly straighten their teeth without the people around them noticing that they are undergoing treatment. See-through plastic aligner trays are used to shift the teeth, and they are so thin that they practically disappear when placed in the mouth. Even better, the trays can be taken out whenever a patient wants. This means they don't have to change their diet like with traditional braces, and their oral hygiene routine can remain the same as well.
Clear/Ceramic Braces: Clear/ceramic braces use brackets and wires just like traditional ones, but there is a chance if you saw a patient wearing them, you wouldn't be able to tell. Why? Because the brackets are made of a clear ceramic material that allows the natural color of the teeth to shine through. The wires are also shaded to blend into the smile. The overall effect is a much more discreet-looking treatment compared to regular braces, but they are still just as effective at correcting crooked, crowded, and gapped teeth.
Invisalign for Adults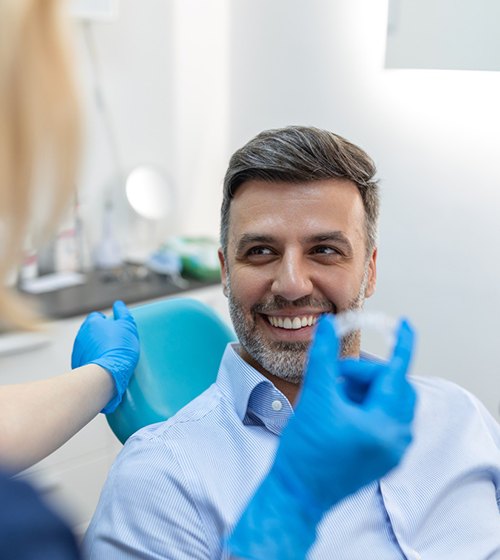 Are you a bit reluctant to get traditional braces as a mature adult? We understand that many patients want to maintain a professional image while they are straightening their teeth. Invisalign may be able to help you do just that. It uses a series of discreet plastic aligners that do not call a lot of attention to themselves, so you will be able to smile and converse with confidence throughout your treatment period.
Learn More About Invisalign for Adults
Understanding the Cost of Adult Orthodontics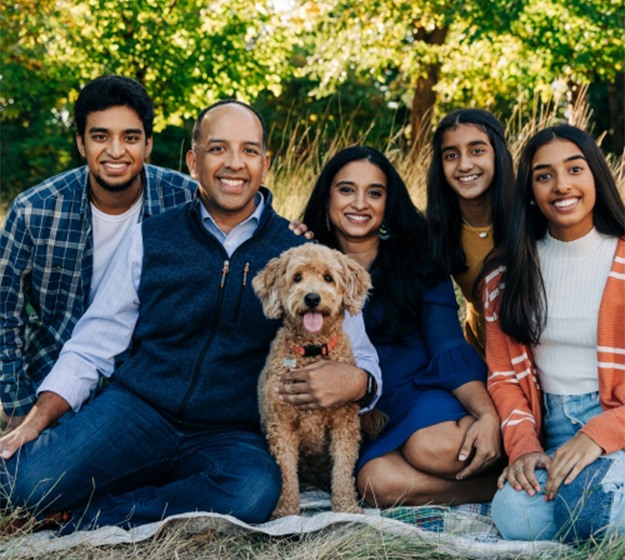 The cost of adult braces in Richardson varies from case to case. When you come in for your free consultation, we will evaluate your situation, discuss your treatment options, and provide you with a personalized cost estimate. We will also help you explore different payment methods with the goal of making it as easy as possible for you to afford your straighter, healthier smile.
Factors That Affect the Cost of Adult Orthodontics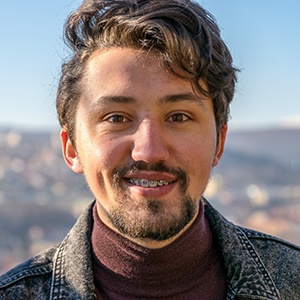 Some factors that affect the price of adult braces in Richardson include:
The extent of your dental misalignment. More complex, severe cases take longer to correct than simpler cases. They may also require more accessories and more frequent appointments. Logically, such factors can increase cost.
The type of treatment. We offer numerous types of orthodontic treatments for adults. Some choose to get traditional metal braces, which tend to be the most cost-effective solution. If you are more interested in aesthetics, you might opt for Invisalign or clear/ceramic braces. These subtler options tend to have a higher price than traditional orthodontics.
Missteps during treatment. If you accidentally break one of your orthodontic accessories or make other mistakes during treatment, you might face slightly higher overall costs.
Adult Orthodontics vs. Regular Braces: Which Costs More?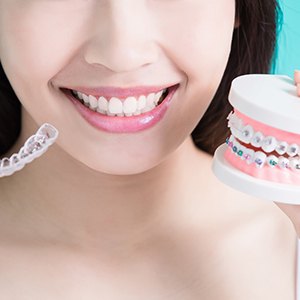 "Regular braces" are traditional metal brackets and wires. They can be used to treat patients of virtually any age, so they certainly fall into the category of "adult orthodontics." However, they do tend to have a somewhat juvenile connotation in many people's minds.
Many mature patients opt for subtler options that have a more professional appearance, such as clear aligners or ceramic braces. Such options come with a slightly higher price, but they may be worth it for you if you want to enjoy the most confident smile possible throughout your treatment.
Does Dental Insurance Cover Adult Orthodontics?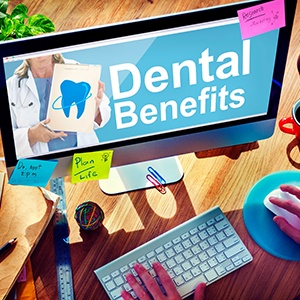 Many dental insurance plans that cover orthodontics only do so for minors. However, there are some exceptions. If you have a premium policy, it may have a once-in-a-lifetime provision for orthodontic treatment. Depending on the specifics of your plan, it might cover half of your treatment, up to the amount of the policy's lifetime orthodontic limit. Many patients who use their insurance enjoy a reduction in out-of-pocket costs of hundreds or even thousands of dollars.
If your insurance does not cover orthodontia, you might be able to use your flexible spending account or healthcare savings account instead.
Options for Making Adult Orthodontics Affordable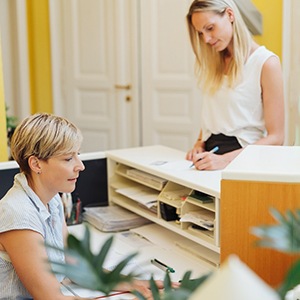 As your adult braces orthodontist in Richardson, we want you to be able to afford your desired treatment. To that end, we offer convenient in-house financing. Via manageable monthly installments, you may be able to pay for your braces over time. Simply let us know about any financial concerns you have, and we will do our best to accommodate your budget.
Are you ready to learn more about the cost of adult orthodontic treatment? Contact our team today to ask questions or schedule an appointment. We look forward to speaking with you!
Adult Orthodontics FAQs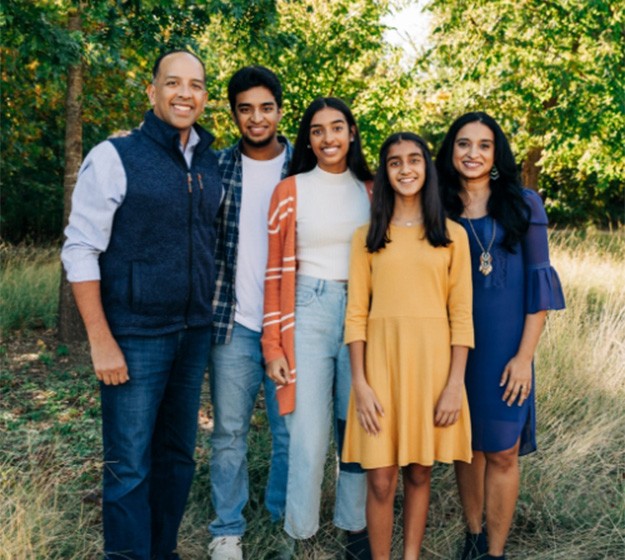 As an adult, you may find it difficult to imagine wearing braces now that you're older, but the truth is that it is perfectly normal! Adult orthodontics in Jacksonville is a great way to improve the health and look of your smile, giving you the confidence needed to move throughout your day with ease. At Richardson Orthodontics, we understand that this decision can be a bit overwhelming though, which is why we've compiled some common questions asked by our patients. We invite you to review the following information, and if you still have questions, please do not hesitate to contact us to schedule a free consultation with Dr. Jones and Dr. Hanson.
How long can I expect to wear braces?
When scheduling a consultation with your orthodontist in Jacksonville, Dr. Jones and Dr. Hanson will go over how long you can expect to wear your braces. Typically, this is dependent upon the severity of your case when you start treatment. If you are looking for fast results, you'll want to inquire about clear aligners, as they are often most popular. However, if you are not concerned with the duration of your treatment, it may be possible to move forward with traditional metal or clear braces. No matter the choice you make, it's important that you are in agreement with Dr. Jones and Dr. Hanson about the timeline for achieving your desired results.
Why are braces beneficial as an adult?
By choosing to straighten your teeth as an adult, you'll not only enjoy a more beautiful aesthetic, but you'll also notice a dramatic improvement in the health of your smile. As you age, your facial shape can change, causing bone loss to occur and teeth to shift. As a result, you can begin to appear much older than you really are. However, with braces, we can straighten your teeth and give you a more youthful appearance while making it easier for you to maintain healthier teeth and gums.
Not only will you appear more attractive and intelligent to others, but you'll exude greater confidence that can help you in your professional and personal life.
Will insurance cover the cost of my orthodontics?
Depending on your insurance plan, they may agree to cover a portion of your orthodontic treatment; however, it is necessary that you check with a representative to ensure there are no exclusions. At Richardson Orthodontics, we are insurance-friendly and in-network with a long list of insurance companies. However, if your insurance does not provide coverage for orthodontics, you can apply for in-house financing. This will allow you to break up the cost of your treatment into manageable monthly payments.
Is it ever too late to get braces?
Naturally, the younger you are when wearing braces, the easier it will be to move your teeth into alignment; however, that is not to say it is impossible as an adult. The older you are, there are options to choose from should you decide not to embrace regular metal braces. If you prefer, you can opt for clear aligners that allow you to remove them while eating, drinking, and cleaning them, but you must remember to put them back in and wear your trays for 20-22 hours a day to avoid a delay in treatment. The important thing to remember is that you're never too old for braces. Deciding to straighten your smile will only serve to benefit you as you grow older.