Invisalign For Teens – Richardson, TX
The Perfect Solution for a Self-Conscious Teen
Is your teenager self-conscious about their appearance? Do they worry about what others think about their smile? Do they avoid photos or social gatherings out of a fear of being judged? These are common feelings for any teen to experience, but for those with crooked teeth or a misaligned bite, life as a teenager can become even more difficult. Fortunately, Dr. Jones and Dr. Hanson at Richardson Orthodontics have a solution that will boost their confidence, enhance their smile, and allow them to pursue a treatment that is discreet and produces quick results. What is it? Invisalign for Teens! We invite you to read through the following information to learn more about this revolutionary treatment option for younger smiles.
Why Invisalign is a Great Option for Teenagers
Teenagers have enough to deal with these days. When you combine a poorly aligned smile with the stresses of school, sports, and possible judgment from peers, it can cause a decline in your child's self-esteem. The good news is that with Invisalign, they can begin the journey to a straighter, more beautiful smile without having to wear metal brackets or wires.
Instead, these clear, plastic trays are practically invisible and allow for a more discreet, subtle form of treatment. They also offer greater flexibility than traditional braces because they can take them out to eat, drink, and clean them. This makes wearing "braces" more enjoyable, especially when you can achieve faster results without anyone ever knowing you're receiving orthodontic care.
How Does Invisalign for Teens Work?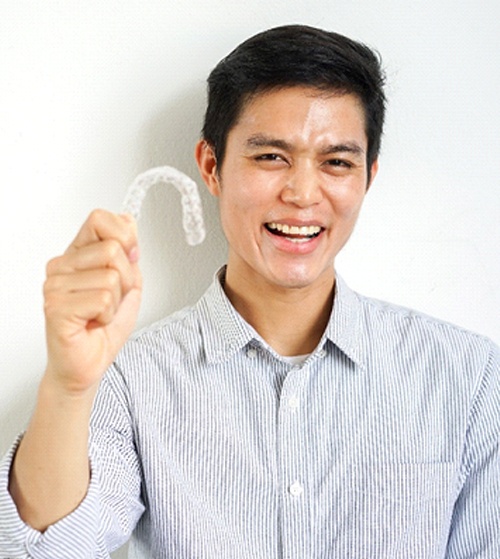 Because Invisalign is such a versatile solution that is capable of fixing overcrowding, spaces between teeth, and bite alignment issues, it is highly likely that your teen will be a qualified candidate for treatment. However, to be certain, it is necessary to first schedule a consultation with their orthodontist. Dr. Jones and Dr. Hanson will examine their smile and facial structure to make sure Invisalign is, indeed, a viable method of treatment for their particular dental needs.
When receiving treatment with Invisalign, your teenager can expect the following process to occur:
Digital impressions of their smile will be taken and sent to a dental lab where technicians will create their custom aligners. Also, you can expect these same impressions to provide you and your teen with a preview of the results they'll achieve as well as offer an estimated timeline for treatment.
Your teen will receive their customized trays after several weeks and receive detailed instructions from Dr. Jones, which they must make sure to follow.
After 1-2 weeks of wear, your teen will be expected to switch to a new set in the series. A color indicator located on the back of the tray will gradually fade over time, indicating it is time to swap out the current aligners for a new set. This is what makes Invisalign for Teens different from traditional Invisalign. Adults who opt for clear aligners will not have this same indicator but instead, will be expected to remember when to switch out their trays.
It is necessary that your teen wear their trays for 20-22 hours each day and keep their regular appointments with Dr. Jones to ensure treatment is moving along smoothly.
Benefits for Teens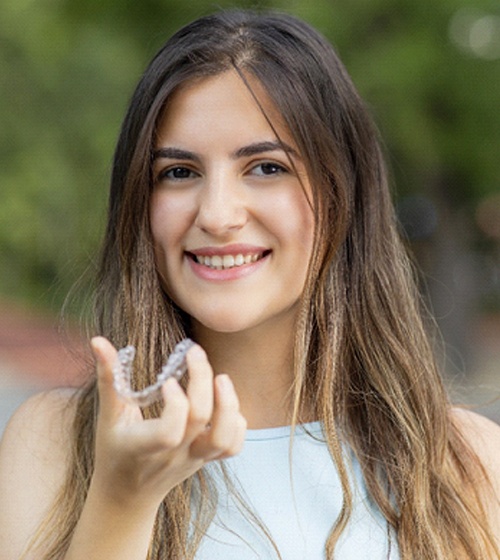 Teens who wear Invisalign are granted more benefits than individuals who wear metal braces. Why? Because they're designed for flexibility, comfort, and a faster method of treatment. Some of the advantages your teen will notice when wearing Invisalign include:
Increased flexibility: Does your teen enjoy playing sports? If so, they can easily remove their trays before the game and reinsert them afterward. This will prevent the trays from becoming damaged and allow them to wear proper mouth protection to safeguard their smile.
No food restrictions: Instead of worrying about eating certain foods, your teen can enjoy their favorite meals and beverages. By slipping their trays off when eating or drinking, this prevents damage to the aligners as well as stains.
No irritation to soft tissues: Unlike metal brackets and wires that can rub against their lips, cheeks, tongue, or gums, Invisalign is a smooth plastic that won't rub or irritate these areas.
Quicker results: While every teen is different, most individuals can expect to see quicker results than if they were to wear traditional braces. The treatment time can vary, but Dr. Jones, Dr. Hanson and her team can provide an estimated timeline during the initial consultation.
Improved oral health: Once your child is finished with Invisalign, they will have the fortune of possessing better oral health, allowing them to effectively brush and floss their teeth with ease. This will certainly make their dentist happy when returning for a checkup and cleaning.
Schedule Your Consultation Today!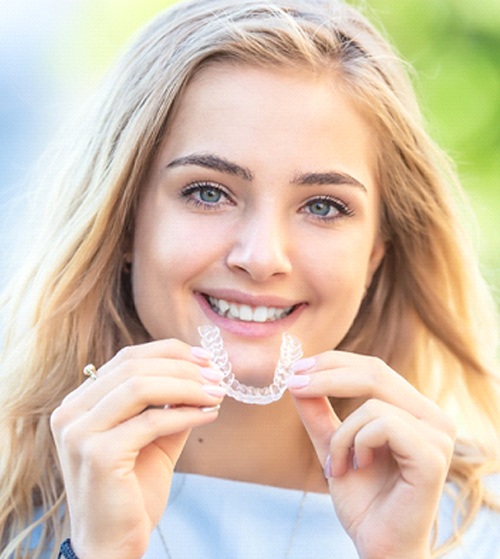 If you and your teen are ready to take the next step, don't wait another day! A new and improved smile can be a reality with the help of Invisalign, so feel free to call and schedule a consultation with Dr. Jones and Dr. Hanson today. Our team at Richardson Orthodontics is ready to help your teen feel great about their smile.