Meet Your Experienced Orthodontic Team – Richardson, TX
Get to Know Us Better!
Whether you need to schedule your first appointment with Dr. Jones or you're close to the end of your treatment, our team will treat you like family. That's because we genuinely care! We love getting to know our patients on a personal level and contributing to their smile transformations. You can learn more about our team members by reading the content shared below. We can't wait to meet you and help you achieve the smile of your dreams!
Debbie, Treatment Coordinator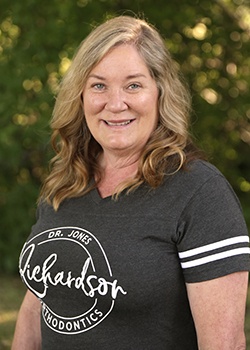 Debbie hails from Richardson originally and is a Berkner High School Graduate. She continued on to study at Brookhaven College and is a Registered Dental Assistant, as well as a licensed property/casualty agent and life, accident, health, and HMO agent. Here Richardson Orthodontics, she enjoys getting to meet so many new people and helping make their dreams of a beautiful, healthy smile a reality at last!
Debbie has two grown, married children, as well as two grandkids, one fish, one fur-baby, and two grand-dogs. When she isn't busy at work, you can usually find her outdoors gardening or spending quality time with loved ones. She also enjoys cooking, trying new cuisines, and making beautiful Christmas stockings with embroidery, sequins, and beads.
Catherine, Scheduling & Financial Coordinator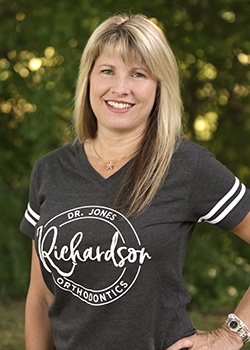 Catherine is from Farmers Branch, and she attended DCCC for her education. In addition to her expertise in scheduling and finances, she is a Registered Dental Assistant and a licensed massage therapist! She's been working in oral healthcare for over five years now, with hopefully many more to come. What she enjoys most about being part of Dr. Jones' team is getting to greet patients with a smile every single day.
Catherine's family consists of her spouse, their two children, three cats, and a chinchilla. She's proud to be a 3rd generation Texan who's raising the 4th generation. Outside of the practice, her favorite hobbies include blinging everything, looking through old photographs, and researching her family tree, and using her license to give private massages. Her favorite movie is Gone with the Wind!
Amie, Insurance Coordinator/Financial Consultant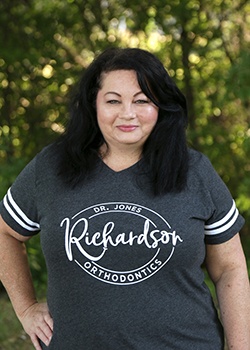 Amie studied at Citrus College in Glendora, CA, and today, her career in the dental field spans nearly two full decades! She loves the friendly environment of our office and being able to help patients navigate their dental insurance inquiries with ease.
Amie is married with four kids and two dogs at home. When she isn't busy at work, she enjoys participating in her knitting club and book club, baking, volunteering at her kids' schools and local hospices, learning languages, and trying new restaurants with her husband.
Brittney, Registered Dental Assistant/Marketing Coordinator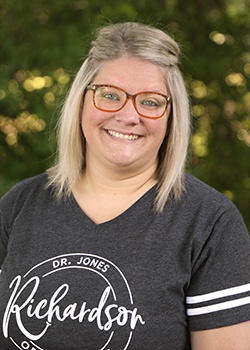 Brittney's career in the dental world spans over a full decade so far, and there's nothing she enjoys more here than being able to watch patients' smiles transform for the better! She studied at Kaplan College and is certified in CPR and coronal polishing.
A Mesquite native, Brittney is happily married with one daughter named Presley. When she isn't working, she enjoys spending quality time with loved ones, cooking, riding horses, and traveling. She's proud to be part of a rodeo family!
Ima, Registered Dental Assistant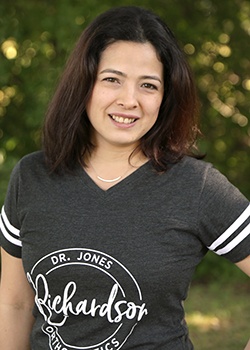 Ima is originally from Venezuela, where she studied dentistry. Today, as part of our team, she loves seeing how excited each patient gets when they discover their new smile after treatment! Her kind, honest nature helps everyone at the practice feel at ease.
Ima's family is the most important thing in her life, even if some of them are at a distance, such as her parents and her brother. Her husband and her son Damian are the greatest gifts that life has given her. When she isn't busy at work, her favorite hobbies include going on walks to nearby parks and enjoying nature with her family.
America, Registered Dental Assistant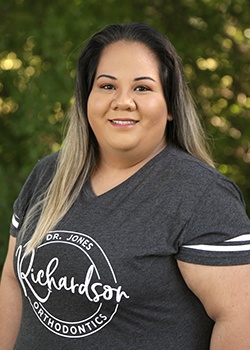 A Dallas native, America studied at Brookhaven Community College and is certified in CPR and coronal polishing. Her career in dentistry spans a full decade so far! As part of Dr. Jones' team, she's thrilled to be able to help create lots of beautiful smiles for patients in need.
Outside of work, America enjoys spending quality time with her family, which includes her parents, sister, niece, nephews, and her dogs – a Maltipoo named Coco and a Peekapoo named Susy. Other hobbies include dabbling in arts and crafts, decorating her house, going out to eat, watching movies, and painting.